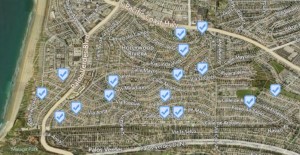 Hollywood Riviera Real Estate Market Update – March 2014:   The State of the Hollywood Riviera Real Estate Market as of March 17, 2014 is fairly grim if you are a buyer and very good if you are a seller.  Yes…it's still a seller's market!  There are only 6 single family homes currently for sale here ranging in price from $899,000 for an extreme 'fixer upper' to $1,799,000 for an ocean view, traditional with over 2200 sq ft.   There is one condo for $519K and one townhouse for sale at $725K.
There are 13 homes in escrow right now.  Of these, the least expensive is $729K on Newton and the most expensive is $3,495K right on the Paseo de la Playa bluff.  That one was only on the market for 14 days before it went under contract.  Things are moving along very quickly here.
There have been 17 single family homes sold already this year -which is actually low considering the number of buyers eagerly awaiting new inventory to come on the market.  Of the 17 sold homes, the average sales price was $1,288,529 which by the way was $529 dollars ABOVE the average list price of $1,288,000.  Yes, above the list price.  Most homes are selling above their list price due to multiple offers.  In this particular case, of the 17 homes sold this year – exactly 9 of them sold at or above the list price – almost 3% above that list price.
As we move forward into the rest of 2014, the mortgage rates are still low and predicted to stay about where they are now.  California Association of Realtors predicts prices to stabilize, although if our inventory remains this low, prices will continue to rise – at least here in 'our little micro-neighborhood' known as the Hollywood Riviera.
The average price of homes in the Riviera this year – $1,288,529 compares to the following neighborhoods' average sold prices:
Manhattan Beach – $2,511,221 (about 2% over the average list price)
Hermosa Beach – $$1,314,833
South Redondo Beach (90277 zip) – $1,161,269 (there have only been 13 single family homes in S. Redondo Beach this year.)
North Redondo Beach (90278 zip) – $745,871
Palos Verdes Estates (90274 zip) – $1,901,996
Rancho Palos Verdes (90275 zip) – $1,576,985
Rolling Hills Estates (90274) – $1,257,750
Rolling Hills (90274 zip/behind the gates) – one house sold so far for $5,000,000