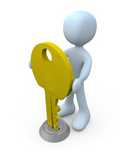 The key to any good deal is "Insider Information."  And that is certainly true in real estate!  If you want to move to a great neighborhood and buy a great house – the one that is near the park and the good grocery store and with great neighbors,  & on a great street, then you better hire the "Neighborhood Expert."  That is how you get the insider information – hiring a realtor that really knows the area…not just someone that knows the entire South Bay for instance – which I think is close to impossible anyway.  It's hiring the expert in the community that you want to live in.  How do you find that person? 
You ask around.  You ask the neighbors, you go to open houses in that area, you look for yard signs and see if there are more than one of the same person.  Just because someone has a listing in a neighborhood doesn't mean they are the "neighborhood expert."  It could be a random cousin that got the listing.  Is there someone taking the time, energy and expense of sending out a newsletter to a neighborhood?  This is usually someone you want to find and talk to.  This realtor lives in the community, has kids in the schools of that community (or used to maybe), is part of the homeowners association if there is one, someone who participates in the activities of the community…baseball games, block parties, etc.  This realtor is someone who drives and walks around this community all the time…this is who you want to have as your realtor if you want the "insider information."  They know what's going on and it will show when you talk to them.  Ask Questions.
They are going to know the building restrictions (if there are any), what schools the kids would go to, where the local grocery store is, the great restaurants in the area, if the neighbor two doors away is just about to tear down their house, etc. 
The Hollywood Riviera is the community Laura and I live in and love so much.  If you ask us about it, we know it like the back of our hand.  We love to sell homes here.  We sell homes in other parts of the South Bay as well, but you can tell when someone loves what they do and where they live.